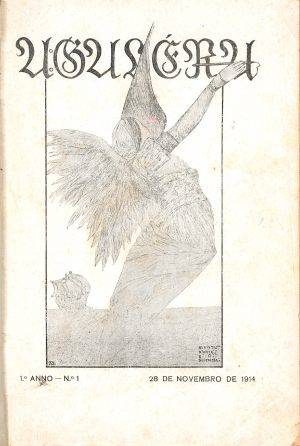 Two years after A Rajada, this "quinzenal d'arte e ciência" (art and science forthnightly) magazine appears, publishing its six issues between November 1914 and February of the following year. Graphically, from the second issue onwards, it is possible to identify a proximity to the aforementioned 1912 magazine, which will makes an influential impact. Its biweekly purpose is also soon frustrated, being a magazine that publishes a monthly issue (Nov 28, Dec 20, Jan 6, Feb 1 Feb 25)
The Latin epigraph of this magazine, "Suave mari magno praeteriti est proceede ad futurum", is quite illustrative of its goal, between past and future. According to what is said in the initial text "Route to follow", the thought about art and science, two compatible sides of life, was a "galley" (A Galera) and the purpose of the meeting of this "school of seafarers".
A Galera is thus a magazine that devotes some of its issues to honoring well-known writers, namely Camilo and António Nobre, the honoree of that final double issue, 5/6, of February 25, 1915, just one month before the release of Orpheu. Pessoa's homage is entitled "For the memory of António Nobre" and has become a reference text for the study of the relationship between the author of Mensagem and the late nineteen-century poet. Mário de Sá-Carneiro also publishes his tribute poem here - "Anto", which indicates, as we would later see with Orpheu and in that year in A Renascença, that Pessoa publishes many times alongside his "compagnon de route~2.
According to the frontispiece of the first issue, its directors were Alves Martins, Costa Cabral, Ferreira Monteiro, Garcia Pulido, Nicolau Sobrinho, Óscar Soares and Tito Bettencourt, directly related to the artistic director, Tarquínio Bettencourt.
Ricardo Marques