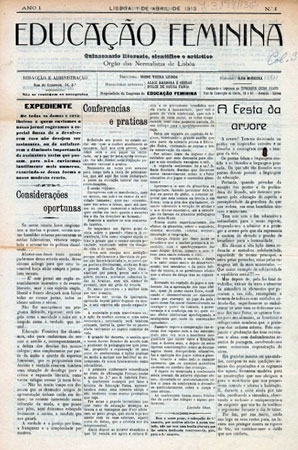 This periodical, which is subtitled "Órgão das Normalistas de Lisboa" has the great interest of having been founded and directed by Irene Lisboa, with the exclusively female support of Alice Barbosa e Oeiras and Dulce de Sousa Faria (editors) as well as the publisher Ilda Moreira. The three are fellow students of Irene Lisboa, almost finishing her course at the current Escola Superior de Educação (former Escola Normal de Lisboa). Here she founded the periodical at the age of 21, starting as a "literary, scientific and artistic fortnight" and then «pedagogical, literary and scientific fortnight», reflecting that word - educational - the real and primordial purpose of this publication. In the second issue, the frontispiece has an article (the first of two) by António Luís Filipe, a student at the same school, where the theme is symbolically "A Escola".
Educação Feminina is almost a newspaper, due to the size and layout of the texts on the page, printed at Tipografia Nacional, in Lisbon. Also noteworthy is the advertising in the magazine, which points in several progressive directions in the emancipation of women, namely the weekly "Terra Livre", which is said to be, in the advertising texto, the 'only newspaper that fights for the total emancipation of women" .
In fact, it is Irene Lisboa who writes almost all of the texts in this publication (the most frequente collaborators are the editors and Irene Lisboa, as well as colleagues Lucinda Dias and Virgínia Faria Gersão), which reached 7 issues until it was definitively censored after six months for its 'progressiveness' of ideas (prohibited by the School Council of the Escola Normal). In this periodical, we see the irreverence and early thinking of the Lisboa, who also seems to use some pseudonyms in the humorous part (Flip, Oricema, Érasan). As an example of the mordicity of her denouncing thought and, perhaps, of the reasons for the premature closing of his publication, is the text that heads number 5 (June 9, 1913), one of the final numbers, where she complains about the plague of rats inside from the School building: "My good friend may object to me that so many rats in this building can be a dangerous infectious focus and I tell you that many more focuses of infection still exist, but that the Portuguese race is so strong that none of these youths he has never suffered here the offense of an attack of epidermal ailments, despite all or almost all of them displaying that haggard and lymphatic air of anemics..."
A final note for the artistic header of the publication: tripartite, on the left you can see a girl reading, clearly pointing to the title (in the center), in the book she holds, involuntarily prefiguring a cross, and some bucolic notes (trees and field) on the left side, in an aesthetic line very art nouveau, and therefore not progressively modernist.
Ricardo Marques