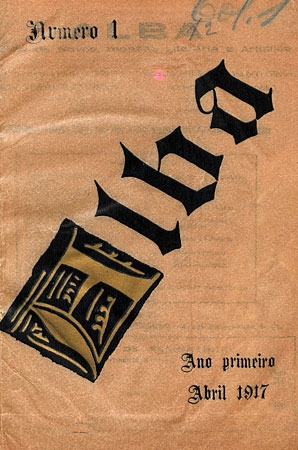 Alba ("Dawn") was a periodical organized by students of the Faculty of Law of Lisbon. It lasted only three issues: April, May and June 1917. If we compare it with the most avant-garde magazine of Portuguese Modernism, also published this year, Portugal Futurista, this constitutes, at all levels, an example of the "arrière-garde". To start with, the design of its lettering takes us back to medieval times, with the capital letter "A" profusely worked on a gold background, like an illumination, as well as the font of the remaining letters in the title. On an aesthetic level, there is no other illustration in the magazine, which, except for the final advertisements with pages in different colors, is only composed of text on a blank page, filled with chronicle texts and unpublished literary texts.
Given the fact it is entitled "Magazine for the new generation", with monthly periodicity –written in the note after the index that asks for collaboration by " all the new ones", it is quite curious that the magazine opens with an encomiastic text by Júlio Dantas, the nemesis of Portuguese Modernism. Here he welcomes the appearance of the magazine, 'which presents itself' like any other magazine, also saluting the youth of the 'twenty years' where the ideas of constituting nuclei like this one arise. In fact, the 'anteloquy', dated March 1917, speaks of the new 'among the noise of political voices and the noise of war, dressed in dawn', in a clear poetic allusion to the magazine's name. The magazine's editor, and certainly the author of this preface, was Vasco Camélier, a college friend of Florbela Espanca (as well as of Américo Durão). The magazine failed due to the exit, in the last issue (June), of Camélier and Mário Pereira, his adjunct and regular contributor.
Among the written collaborations, it is worth mentioning Reinaldo Ferreira, who will become known as Reporter X in that year, at the age of nineteen. Here he writes a chronicle about the opening of a Lisbon branch of a Porto goldsmith, where he talks comparatively about the value of jewels and of the human being: "to buy them, there are those who sacrifice their honor."
Ricardo Marques