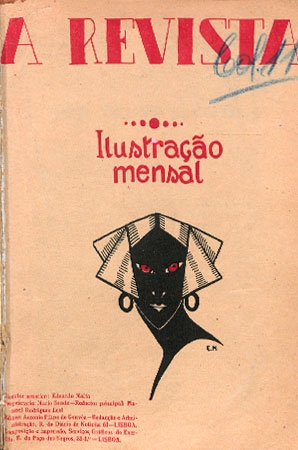 Magazine unknown to most researchers, it reveals several qualities that should place it among the important magazines of Portuguese Modernism, starting with the fact that it has a cover designed by Eduardo Malta, its artistic director and true promoter of the magazine. António Filipe de Gouveia is the editor, being owned by Mário Sande.
Dating back to 1924, the year Athena began, well illustrated and quite literary, it was subtitled "Monthly Illustration" but it was issued one only number.
It presents the collaboration of Aquilino Ribeiro, Augusto de Santa Rita, Pascoaes, António Patrício, António Ferro, Mário Saa, and is therefore a magazine to be considered in the panorama of the end of the first Modernism.
The magazine opens with some unpublished pages of the third edition of the novel by Aquilino Ribeiro, who would have been almost 40 years old at the time and had been one of the founders of Seara Nova, entitled "Daughters of Babilónia". It was in that year that he published one of his best-known children's stories: O Romance da Raposa. At the end of this contribution, there is a section by Augusto de Santa Rita, a common ending in all the magazine's items. In the following contribution, an unpublished charcoal of António Patrício, made by the artistic director, to illustrate a poem composed almost ten years before, in 1915. At the end of the poem, another section, this time by Teixeira de Pascoaes, also alluding to the bucolic and nostalgic theme of the poetic composition.
Mário Saa has here one of his first most significant contributions to a magazine, namely the poem "Oh, Caprice". In the same year, in fact, he published in Athena, in the third issue, two other poems that, with this one, are paradigmatic of his literary maturity, namely "Xácara do Infinito" and "Versos Frios".
António Ferro writes a small literary essay focused on the recent earthquake of 1923 in Japan and director Eduardo Malta releases a small theatrical act entitled "Minho", scene V of a play thus titled and which makes us believe in the existence of a play written of the same name.
It is also worth noting, being a magazine in the 1920s, a great contamination with what we can call the 'variety magazine', such as ABC, which includes some items on football, by Alberto de Mira, and a final section on sport, where the focus is put on the great sport of that decade, boxing, the target of so much aesthetic dialogue in Portugal and around the world.
Ricardo Marques